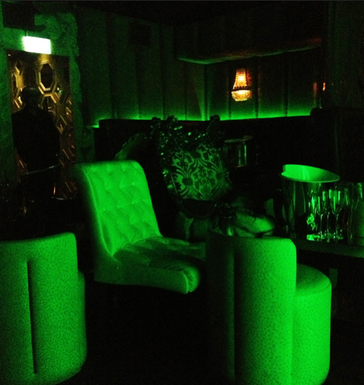 Below the grand staircase, past the glittering Main Room, through a small corridor that leads to the kitchen take a right before you hit the service area. Find yourself in a dark entrance, a small cloak room before you. Once your name has been screened and it's assessed that you do belong here (and haven't just tried to follow the white rabbit) you're led into a small, intimate space of emerald green.

The Green Room.


One of my first DJ gigs in London was in this room. Notorious for deep house sets that go on into the morning, the Green Room is in a secret space in one of London's premier clubs Maddox. It takes a lot more than a table reservation to get in. The selective guest list is by invitation only by either the DJ or friends of those tight with the club owners.
I'm returning to the Green Room tonight after almost a year of absence.
I've had a bit of a download session this morning and waiting to hear these tracks through a good sound system:
This will be one of my last gigs in London before I move to Hong Kong on Sunday.
But before that, some fun at the Green Room. It's an envious little playground of good music, people and smooth sexy beats.