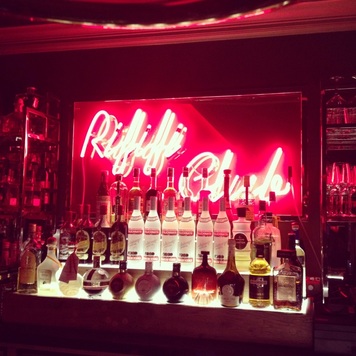 Under a luxurious crimson awning, past a heavy velvet curtain step into the opulent and
dazzletastic
world
of Rififi. A small exclusive bar that hints speakeasy and where rumours are started.
I came here for the first time just before I left for New York City. Despite it's small mirrored walls, it's able to house the charming partyers of London. Last night it played host to a dear friends birthday where I jumped on the decks till the early hours of the morning.

The low lighting, hidden corners and
dirty drinks give it an edge that London has long missed.
Track list:
"It's You (Mousse T's Teef Vocal Mix)" - FCL
"Your Space" - El Mundo
"The Path" - Teenage Mutants & Purple Disco Machine
"Gentle" - Lovebirds