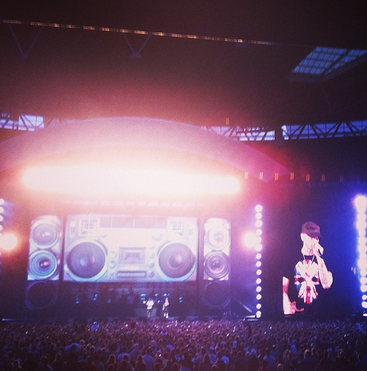 The first time I heard Eminem was huddled around the television screen, tuned into MTV that (dared) to screen his first single, "My Name Is" . Huddled around so that our parents wouldn't hear the lyrics.


Now I stood, fifteen years later, at the historic Wembley Stadium, London in Eminem's changing room while he and Dr Dre listened to samples of upcoming, never released
tracks.
Dr Dre then offered me a baked potato with bacon from the food cart. And no, not that kind.


Today Eminem made history - being the first rapper to ever hold a concert at Wembley Stadium. The show was nothing less than epic. A full piece band, vocalists and the man himself. No dazzling pyrotechnics, no flextastic dancers ... just the music, the moment, he owned it.

For an hour and a half, Slim Shady rapped and rhymed around the stage. You can see Eminem's transition and journey as a songwriter throughout the years. From the very violent and aggressive lyrics, weirdtastic beats and trippy sounds to a more hopeful, recovered message with melodies and familiar mainstream song structure.

Eminem has pretty much lived his traumas out in his lyrics. A kind of therapy some may argue. Now he is five years sober and as energetic as a boxer. He had the crowd the whole damn time.

Some of my fav tracks admittedly, are from his earlier years.

My Name Is - classic
The Real Slim Shady - that beat
Without Me - the punchy comeback
Drug Ballad - personal fav
Lose Yourself - change of tune

Special thanks to Beats by Dre and Paulina for the chance to be a part of music history!