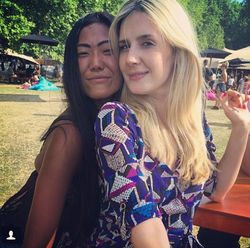 It's music festival time! Summer means lots of open-air activities and general frolicking in the sun aided by fruity ciders. Today my galpal Shannon managed to score us some backstage passes, so off to Finsbury Park we went.

The standout acts of the day were Pharrell and Kanye West, according to PR management. But according to moi and the level of crowd hand action, earlier acts Iggy Azalea and Tinie Tempah had the stage and lights. I was interested to see Iggy, a fellow Aussie, live and boy did she have the stage at her control. Oozing sex appeal but keeping the attention on her rapping, this girl's got IT.

Tinie Tempah had the crowd in the palm of his hand. Responding to his every command, the show was anything short of electric.