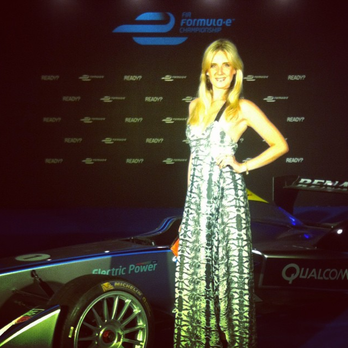 It's the day before the big race. After checking some CDs and finalising playlists, I set out for a quick tourist trip to Tiananmen Square and Summer Palace. Big bummer I can't make it to The Great Wall of China ... but hey, #firstworldproblem
***
Observation #1 ... Unlike in Japan where every man, woman and child are wide-eyed giggling behind shy hands and asking for photos of you - the Chinese quite simply couldn't give a toss.
I am quite clearly the tallest, blondest, most alien looking on the subway and no one even bats an eyelid. Talk about feeling invisible.
Yet this quickly changes as I get to The Temple of Heaven. Tourists all pointing iPhones and gadgets this way and that, suddenly start asking for photos. Before I know it there is a queue - yes a queue, of little children and eager adults wanting a photo with moi at the steps of the Tian Tian - the Hall of Prayer for Good Harvest.

I'm feeling famous! ...that is, before I get back onto the subway. Ba-humbug.

Observation #2 ... Maps of any kind are completely useless and only there to confuse tourists.
After asking concierge what the best way to the subway was from the hotel, after standing for fifteen minutes trying to decipher his broken English and after walking away two steps feeling pretty victorious the Chinese man stops me, points to the map and says "map no good. All map no good" shrugs, then leaves me to my own devices.

Luckily my sense of direction is pretty good. I manage to figure my way around town despite the ridiculous amount of barricades that try to throw me off my path.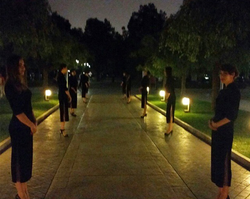 Observation #3 ... a Chinese taxi driver doesn't know his way around. True story. Even if he says he does, he doesn't. Even if he points in the correct direction of your destination, he'll turn around some where along the path into the opposite.

Missing the group shuttle to the Gala Dinner location after a last sound check at the track, I stress less and decide to catch a taxi. On my own. It's been done before, and how hard can it be after all I pretty much know the subway lines off by heart now.

Well to put things quite honestly - I cried. The mixture of fatigue, hunger, lying maps, zero ability to communicate and a screaming taxi driver literally pushing me out of the taxi onto a street that looked like it was smack bang in the middle of slum nowhere - I let the flood gates open.
For a minute. Then I belted myself into the seat, retrieved the map for the tenth time that was sent with the invitation and made it pretty clear I'm not going anywhere till this vehicle reaches my correct destination.

The inaugural gala dinner was
magically set in the grounds of the Forbidden City
. The large columns and majestic roof of the temple towered over the square. It was such a special setting.
Unfortunately I couldn't DJ here as planned due to the restrictions on traditional venues in China. So instead I got to mingle with the Formula E folk, drivers and special guests ... but not for long. My laptop was calling as I still had a few tunes to tweak so it was back to the hotel and some much needed sleep before the big day ahead.
Special thanks to Felder + Felder for glamming me up for the night