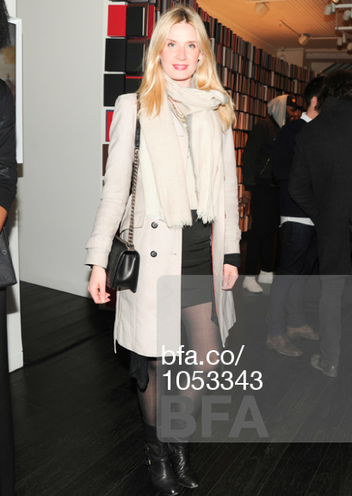 Today I went to the preview of Mulberry's new mens collection that also featured the live painting and decorating of Mulberry's take on the Faberge egg.
During the month of April, large Faberge eggs will be painted by designers and 'hidden' in a range of locations around the city. People are encouraged to download the app and find all the eggs, to raise money for the Elephant Family - a conservationist group that helps to save the endangered Asian elephant and its habitat.

There I met one of NY's hottest event DJs - Brendan Fallis. One thing I've already noticed about New York is that there are a lot more "brand event" DJs in comparison to London. Actually, here the DJs themselves are personalities whereas in London they'll get a personality to show up at an event, stick a pre recorded CD in, twist a few knobs and hold the headphones pensively as if they are proving the E=mc2 theory ...
I think NY will be an interesting music scene to examine in the next two months.


Onto said music things, on my Shazam tag list (yes guilty) ...
"Happy (Mountal Remix)" - Pharrell

Otherwise, the track list ranged from boppy tunes from the 90s peppered with cool house remixes of MGMT and Empire of the Sun.