Race day! And what a busy day it was ... The Emotion Club turned into a beach club complete with Mojito shack conveniently by the track. There was then an after-race beach party right by Le Mano - the sculpture by Chilean artist Mario Irarrázaba complete in the summer of 1982. Both the Formula EJ and I took turns at the turntables.

I had merely an hour to change and get myself together before a white-themed dinner held at Giuseppe Cipriani's storybook house in the country-side, appropriately named Gin Tonic. The chef at the household is Cipriani trained teamed with a mighty wood-fired oven and grill that majestically sits outside for all to see. If I was a meat-eater this would be the golden pot at the end of a rainbow.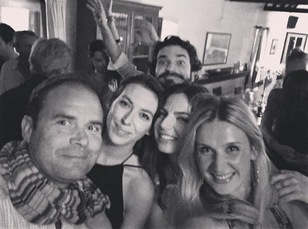 *
After it was off the Official After Party - at Ovo Beach Club. The drive there was quite an adventure itself. A driver who wanted to get in on the action and purposely drove the long way round to have a boogie in his seat. Little did he know he was carrying the DJ who was now a cool 30 minutes late. At least I can always cry kidnapping!
*

In true Izy style of course there was a glitch. I swear I am a magnet for defected situations which make me have to somehow quickly adapt to abnormal DJ environments. This time one of the CDJS' USB ports was kaput. Well who would have thought CDs were here to save the day and thankfully I had brought my house collection.

The party ended at 4:30 with a full house. I'd wanted to close with a remix of Marky Mark's "Good Vibrations" ever since I had found it, and this was its moment. Good vibrations for a night of good vibes!