Those iconic yellow beach umbrellas. Synonymous with the place who's very name exudes luxury, translates tranquility and who's air of mysery is thanks to the fact that only the lucky few get to pass through and call it home for a few days. Amanpuri.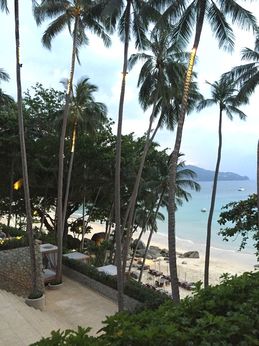 After a bed-ridden Christmas, I found myself standing by the famous palm-tree lined steps of Amanpuri, overlooking the beach. The chaos of the flight and my sickness, suddenly melted away. An immense sense of peace washed over me with each sweeping wave that leisurely came to shore.

I knew the next few days were going to not only be magical, but the perect way to bring in a new year. And to close one that was most challenging on every front.

Luckily I had more than enough friends who were also in Phuket for the New Year. My days leading up to New Years Eve were spent most happily - swimming in the ocean, long talkative lunches and reflective nights sat amongst those towering palm trees who rose up above the darkness.