Last night was my second gig of my month long residency at Tazmania Ballroom in Hong Kong. It's a great place where people meet for a drink before continuing their night, or stay to play ping pong and listen to music.

Tazmania Ballroom opened in 2010 and is much like a glamorous speakeasy bar. Designed by Tom Dixon, it oozes class and sophistication.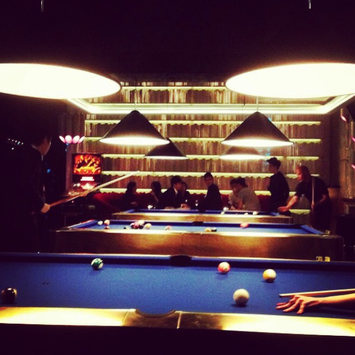 A mix of foreigners and Hong Kong trendy locals mingle over bottles of champagne and competitive rounds of ping-pong. On Wednesdays, the ping-pong tables are replaced with pool tables that come down from the ceiling. how very James Bond-esque. If you're not in the know or well connected, slipping past the doormen may be a challenge.

I played a more funky, rnb inspired set last night. I'm liking tracks with hard bass lines and edgy lyrics these days, they are great party starters and also good beats to listen to even when just having a drink at the bar. And a little shameless blowing own trumpet moment – I received a cute little note … Tremendous. What a word!