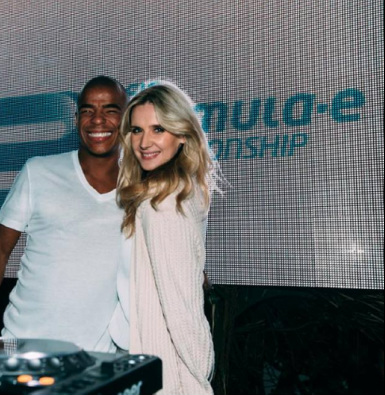 And so, another race has ended, another after party to fire up. Punta del Este has hands down been the most exciting race so far!

From the people, to the atmosphere, the setting, the weather, the view ... I could go on! Everyone at the FE team was high on good vibes and not a lot was needed to get everyone in a party mood.

The after party was a real treat. Set in a beautiful house on the rocks of La Barra, an area just north of Punta's city centre.

The dance floor was almost on the water, set upon the villa's terrace, waves crashing up against the walls of the DJ booth.

After spinning all day at the Emotion Club that was trackside (and with a glorious but teasing view of the beach), I had just enough time to change, polish my set list and burn a few CDs with backup tracks that I may feel like busting out in that spontaneous moment of gotta-play-that-song NOW!

No matter how small or big the gig is - I always get nervous. I don't mind, in fact I thrive on it as it keeps me on my feet, alert and in touch with the crowd and music. Nerves were set even higher this time as I was warming up for Erick Morillo. I'd played with Erick before a few years ago at a few after parties for Future Festival in Sydney and that infamous spot in Ibiza some are lucky to know of, The Kave. Excitement, nerves, stress - someone get me a drink!

There were a few guidelines that I had given myself for this set - beachy tribal tunes, Morillo-esque towards the end and a few classic vocals. Oh and absolutely no Subliminal records - standard when warming up to any producer/dj. Don't play their tracks.