Last night I was invited to a special presentation and dinner hosted by Traktor and Car Craig. Held in a secret location in Ibiza, the event was an intimate affair streamed live by BE-AT and featured Luciano, David Squillace and the host himself, Carl Craig, on the decks showcasing Traktor technology.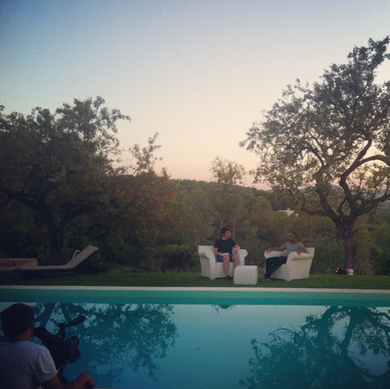 Before the sunset alfresco dinner set out magically on the lawn of the finca overlooking the rolling hills of San Antonio, Carl sat down and answered a few questions on his professional relationship with Traktor and how his DJing has been shaped by technology from his vinyl days.

The Traktor debate is still ever present and even more so relevant as some of the biggest DJ's either switch entirely or partly - depending on their gig specs - to the revolutionary technology.

I myself am still a CD die hard, but having fiddled with Traktor a few times I can definitely see the advantages from many points. Especially if one's organisation skills aren't the best.

Traktor allows me to prepare tracks minutes before my set, literally on the fly. I can play a more relevant set depending on my mood, the venue ...

The night was truly special. Apart from (bascially) private sessions from some of the most respected music makers and mingling with the influencers in the world of electronic music, the vibe was chilled yet fun.
Luciano also revealed all the tracks he had played that night were
unreleased and new
. It was his chance to road test them before a live audience, working them at different speeds and effects.
With bottles of smoky
Mezcal Amores
floating around - thanks to Maria and Anthony ( one half of Audiofly), who partly sponsored the event - shots could have instantly turned the gathering into a party.
Special thanks to Hagi Craig for the invitation.