Argentina. The land of meat, leather and and a rather delicious red liquid. Talking about Malbec here. It's hard to get a bad bottle of it in fact. Even a cheap 3 pound taking from the local supermarket bursts with flavour and depth. Unfortunately due to Fashion Week preparations that awaited me on my return, can't say I had too much of it this trip
although the few drops I enjoyed were heavenly.
Buenos Aires is where the third race for the FIA Formula E race took place. Although the smallest track of them all, we had a beautiful
Emotion Club
. Set in an old building with wrought-iron staircases and monochrome tiled floors, it gave a classy edge to the setting.
My trip was injected with some much unwanted action. Starting just upon arrival into BA, the immigration officer ripped out my photo page in my passport. Do we let her in or not? Because of course we are not accepting any responsibility for what we just did ...went the tone of the conversation. I was let in but had to make a trip to the consulate to get a new passport. All at my expense.
Four hours later, I leave the beautiful consulate building with a chopped up passport and a ridiculous temporary passport. Ridiculous as the photo I was forced to accept - only one location approved by the Polish consulate of Buenos Aires - was not me at all. Sweaty, no contouring and features all mashed into 2D form.

Suddenly I hear two bangs, shouting, a large bag being thrown my way. Motorcycles with black clad men perched as if on horses drive a nose-hair past me, picking up the goods. It all happened so fast I stood there in shock - basically I'd just witnessed a hit and run. Which likely was armed. I got out of there as fast as the Uber driver collected me, back to the safety of my hotel. Enough action for one day. And the whole trip pretty much.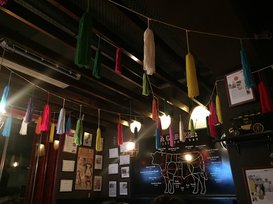 Restaurant Recommendations

La Cabrera //
José Antonio Cabrera 5099, Palermo Soho
Ok making a confession here - I snuck in a piece of meat (I'm pescatarian), after much peer pressure with the words that I'll never taste a steak like this again. Have to admit - it was worth it. The meat melted in the mouth, the flavour was rich and it was pretty evident no hormones or antibiotics were pumped into this flesh. Wine list is outta control too.


Il Matterello Ristorante // Martin Rodriguez 517, La Boca
I've never had an Italian mamma cook pasta for me but if she did, this would be it. This family-run-for-generations hole in the wall is a wonderful retreat where everything is made on the spot. Yes, including the pasta.

Osaka // Juana Manso 1164, Puerto Madero
Looking for an alternative to meat? It may seem hard in this city that breaths all things cow, but Osaka is a decent sushi joint with Peruvian fusion. The sashimi is delicate and fresh, the space modern and hip.
Faena //
Martha Salotti 445, Puerto Madero
Do not eat by the pool. Do not eat in that hideous all-white restaurant behind the bar. Don't even order room service here. It all is sub par. The grill at the Faena however is something spectacular. Be prepared though to be smelling like smoke upon departure. The open kitchen, although great entertainment will overpower the strongest of colognes.
Bar RecommendationsBar Isabel //
Uriarte 1664, Palermo Soho
The bathrooms. You're welcome.
Victoria Brown // Costa Rica 4827, Palermo Soho
Hands down one of THE best speakeasy bars I have ever been to. The music is tech house, the lighting sultry, the cocktails inventive, the staff friendly and cool, the crowd oh-so-hot. You're forgiven if you really don't fancy going anywhere else the rest of the night. Or your stay.
Floreria Atlantico // Arroyo 872, Retiro
It's a florist. And a wine shop. But the bar is through the fridge and down below. Hottie central of both sexes.
Verne // Av. Medrano 1475, Palermo

Another seductive cocktail bar that knows it's shit. Blend the the locals. They are friendly and willing to give you insider tips.